Regular price
Sale price
$73.00 CAD
Unit price
per
Sale
Sold out
×
Stock notification
Get an email when this product is back in stock.
Rhymestone 40% Split Keyboard Kit
We respect your privacy and don't share your email with anybody.
The Rhymestone is 40-key (40%) ortholinear keyboard.

This keyboard runs QMK and the firmware can be found here.
Kit Includes
2 x FR4 Switch Plates
2 x Rhymestone PCBs
2 x Acrylic Bottom Plates
2 x Acrylic OLED Cover Plates
1 x TRS Cable
2 x TRRS Sockets
2 x Tactile Switches
2 x .91" OLED Displays
40 x Kailh Hotswap Sockets
40 x Diodes (SMD)
8 x 6mm Brass Standoffs
4 x 10mm Brass Standoffs
12 x 4mm Screws
12 x 6mm Screws
8 x Clear Rubber Feet

Required to Complete
2 x Pro Micro Controllers (Comes with Headers to Direct Attach)
40 x MX Switches

40 x MX Keycaps

Optional Items
40 x SK6812MINI RGB LEDs
Controller Hot Swap Option
2 x 40 Pin Machined Breakable Female Header

Build Instructions
This keyboard is designed by Marksard.
Share
View full details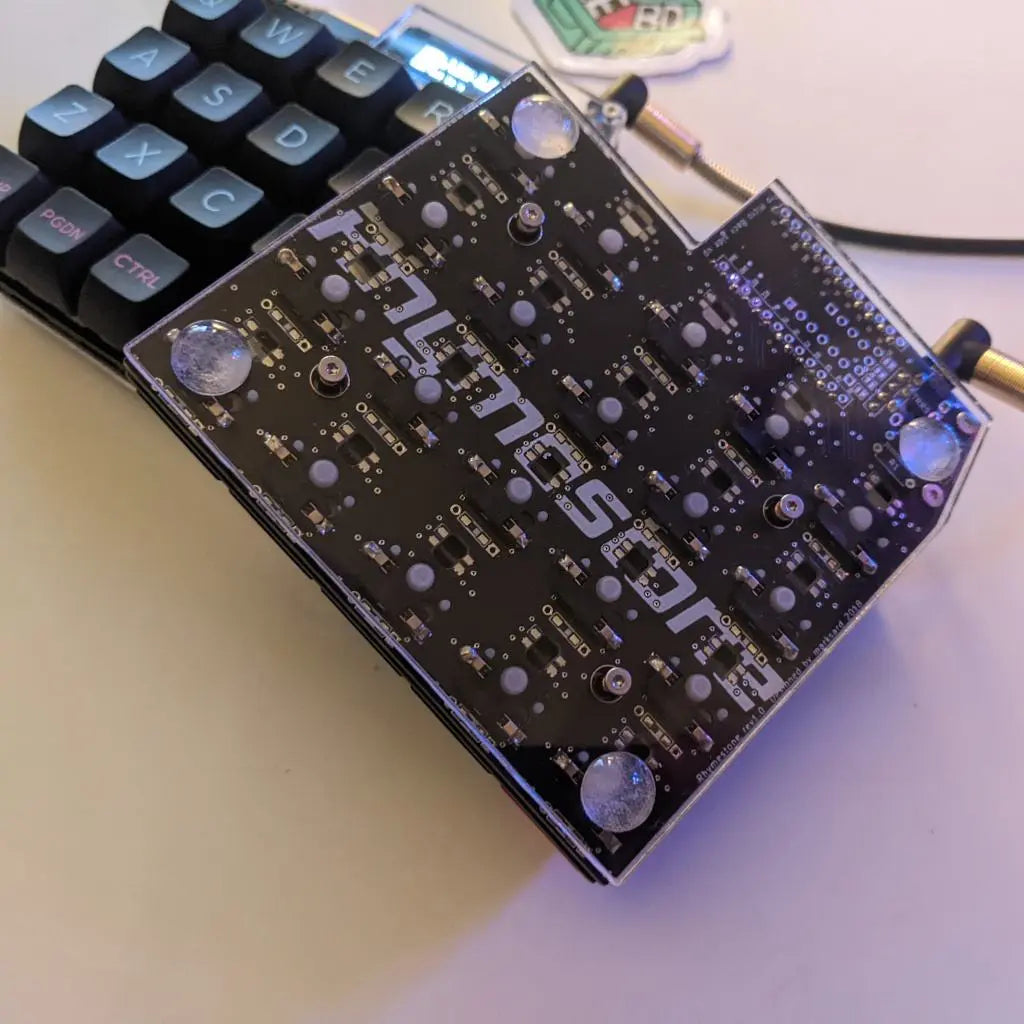 Good Intermediate Board
This board is a good intermediary board or introductory board to split keyboards. From regular keyboards, I went to a pre-built 40%, then to this. Eventually, I'll probably move onto a low profile split keyboard with splays and column stagger which is why this is an intermediary board.
This board does have some problems. Due to the shortage of ProMicros, you'd have to recompile firmware for whatever microcontroller you picked up. The Helios that is sold here is really good for that and there are converters in the QMK repository.
Second, the guide is basically in Japanese. It's not too bad cause the pictures are very self-explanatory, but I wanted to mention that.
LEDs are hard to solder. This is just a general note. Any board with LEDs will face this issue. Make sure you have a good soldering iron that can regulate its temperature, good solder, and flux.
Once you've built the board, it's great! I made it work with VIAL so I don't have to reflash the firmware all the time and also so the board can be plugged in either side. Because it has the full 40 keys, you can play around with different setups. I was able to go from 40 to 36 keys and I can always add or remove keys quite easily. It's also very easy to mod. You can add 90 degree extenders, some phone stands on the bottom to tent the board, and cool keycaps.