Regular price
Sale price
$99.00 NZD
Unit price
per
Sale
Sold out
×
Stock notification
Get an email when this product is back in stock.
Sofle v2.1 RGB Keyboard Kit
We respect your privacy and don't share your email with anybody.
The Sofle keyboard is a 6×4+5 key column-staggered split ortho keyboard with encoder support.
This keyboard runs QMK and is configurable with Via. The via firmware can be found here.
Kit Includes
 Normal Case Option
Tenting Case Option

2 x FR4 Switch Plates

2 x Acrylic Bottom Plates

14 x 4mm Screws

14 x 6mm Screws

2 x Tenting Acrylic Switch Plates

2 x Tenting Acrylic Bottom Plates

16 x Leg Support Spacers

4 x 20mm Hex Bolts

4 x 30mm Hex Bolts

4 x 40mm Hex Bolts

4 x 50mm Hex Bolts

4 x Black Hand Nuts

8 x Leg Nuts

4 x 4mm Screws

24 x 6mm Screws
2 x Acrylic OLED Covers
2 x Sofle PCBs
1 x TRS Cable
2 x TRRS Jacks
2 x 3x6 Tactile Switches
2 x OLED Displays
58 x Kailh Hotswap Sockets
60 x Diodes (SMD)
4 x 10mm Brass Standoffs
10 x 7mm Brass Standoffs
8 x Rubber Feet
Required to Complete
2 x Pro Micro Controllers (Comes with Headers to Direct Attach)
58 x MX Switches
58 x MX Keycaps
Optional Items
1-2 x Encoders
1-2 x Encoder Knobs
2 x SK6812mini RGB LED Forward Facing Layer Indicator
12 x SK6812mini RGB LED Rear Facing Drop Lights
58 x SK6812mini RGB LED Per Key Lights
2 x 40 Pin Machined Breakable Female Header (Enable Controller Hot Swap)
2 x 40 Pin Machined Breakable Male Header (Enable Hot Swap)
or
2 x 25 Pack Mill-Max Machined Pins
Build Instructions
This keyboard is designed by Josef Adamčík and more information can be found here.
Share
View full details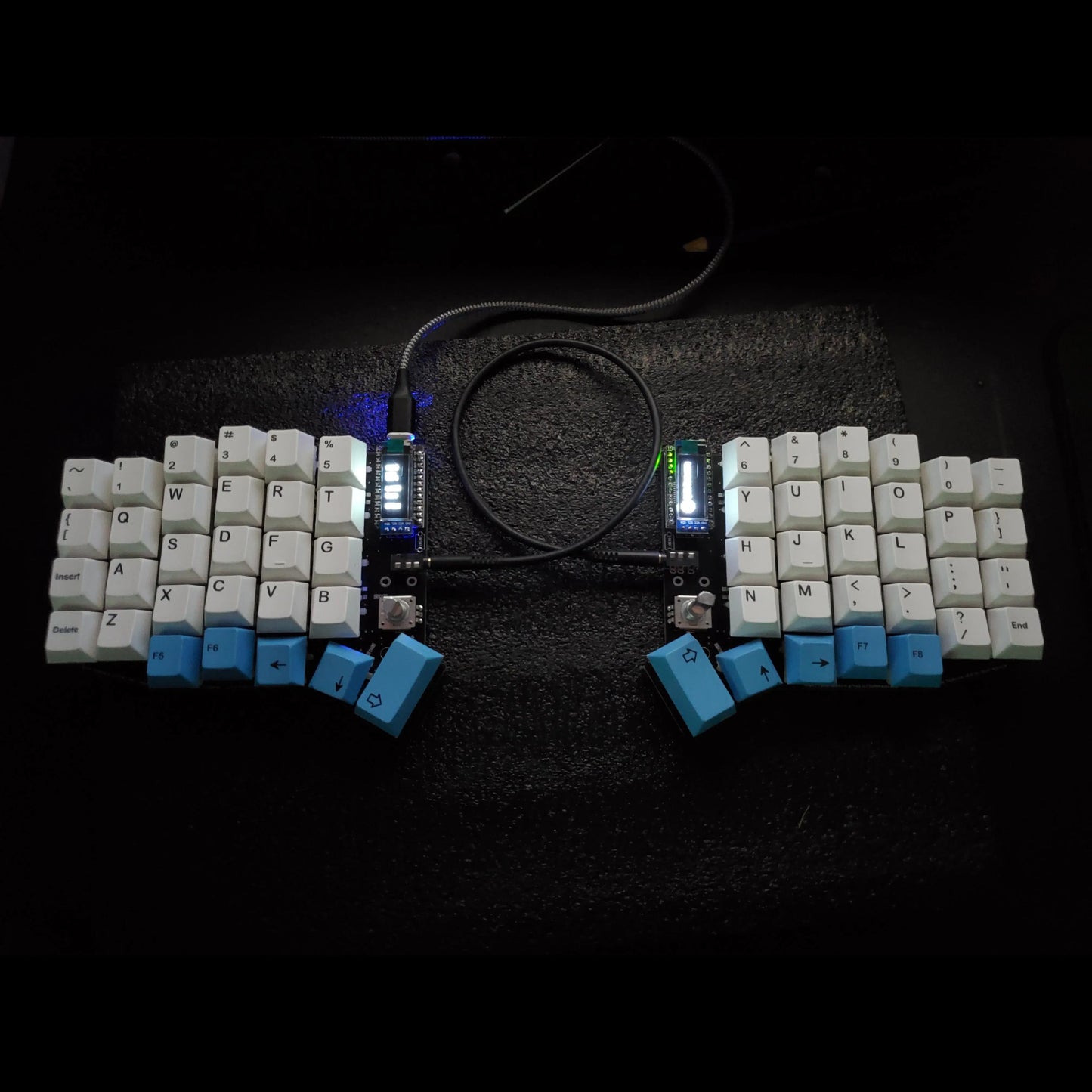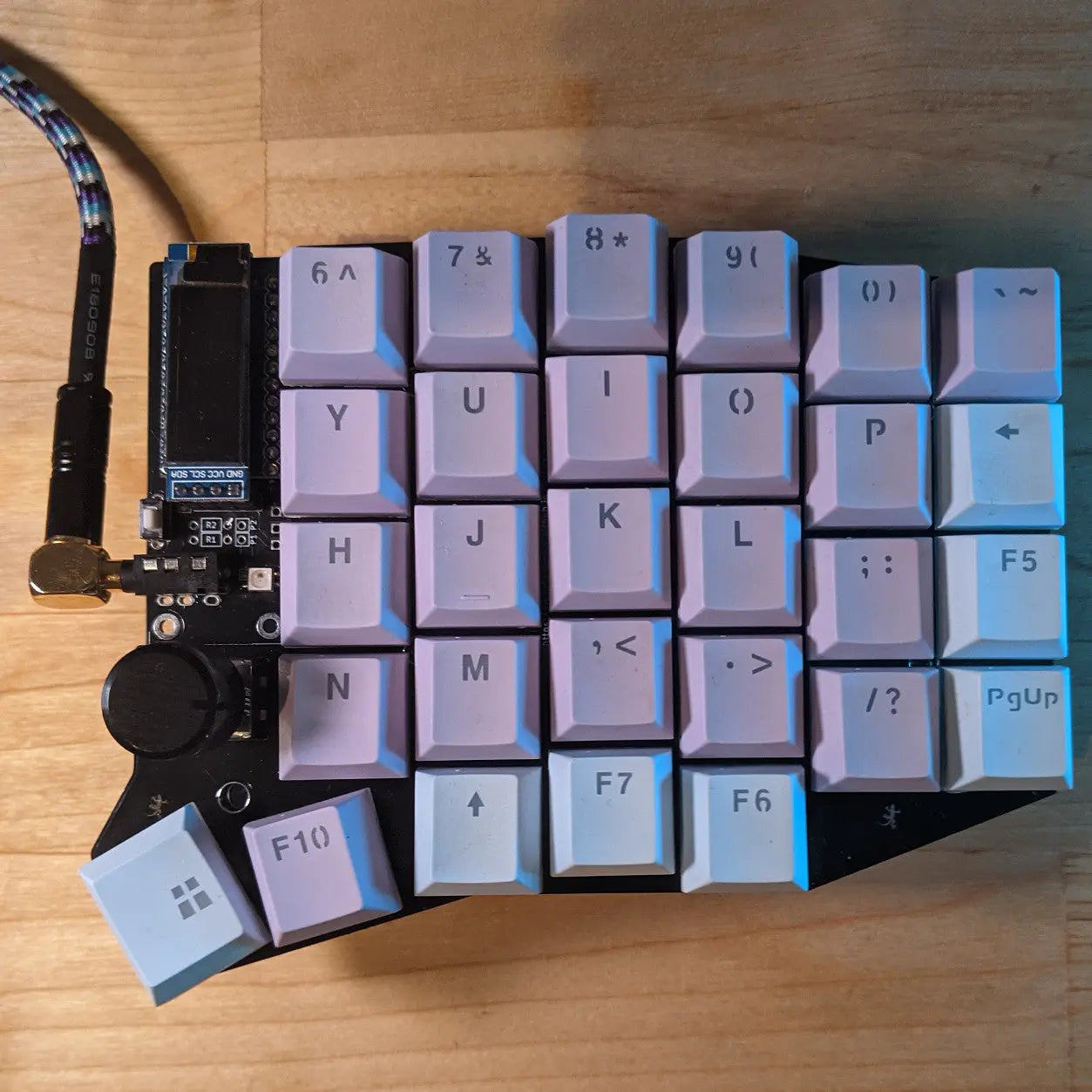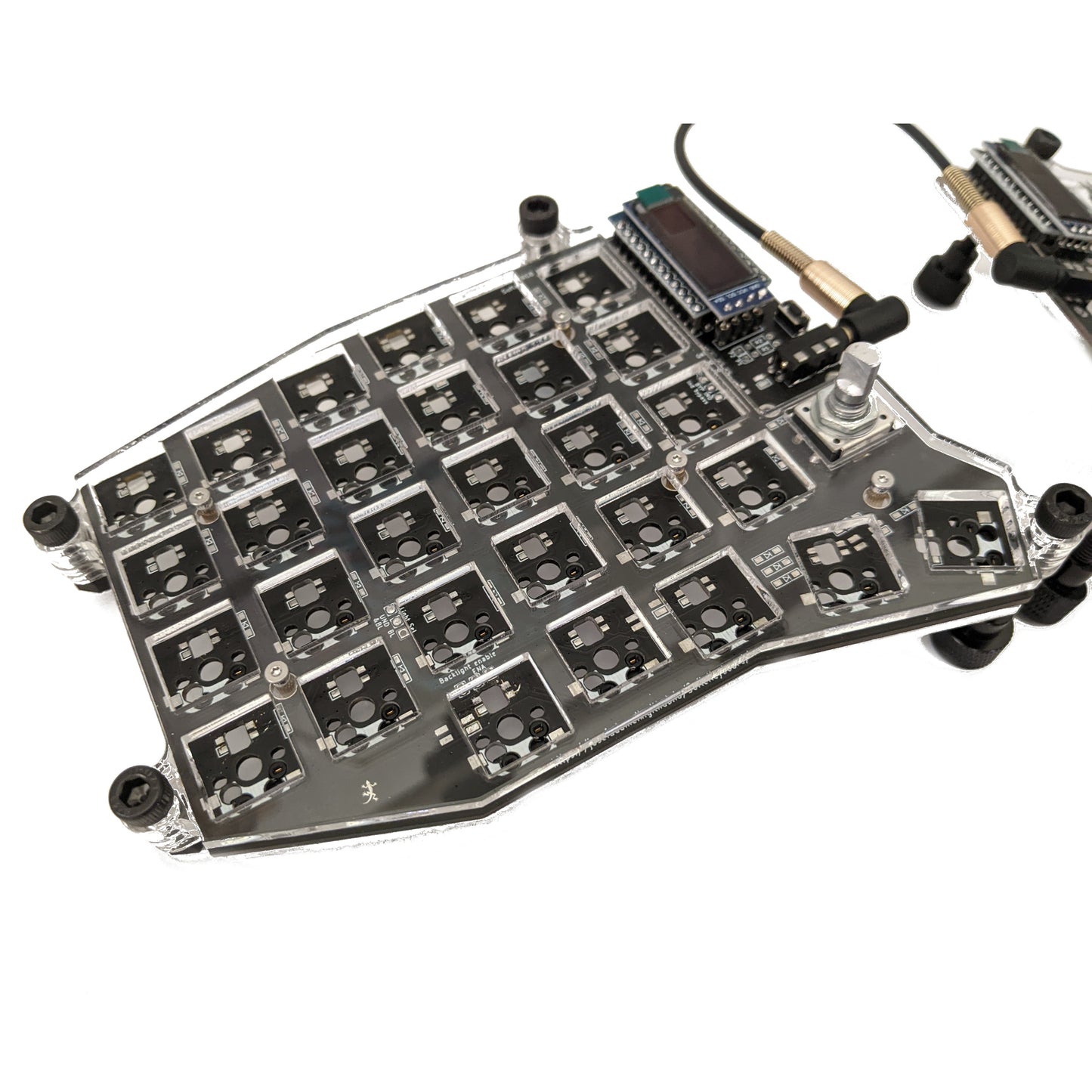 Good keyboard
Fun build, looks good. Build guide a teency bit lacking and qmk firmware seems to be created by Satan himself, but the community is great so that helps. LEDs were easier to solder then I thought they would be.
great keyboard for a tinkerer!
i had a lot of fun building this!
there were some problems along the way, and some problems that i have yet to solve. ill try to outline them here, but overall i am very happy :)
first, the good:
this kit contains most of what you need. its a perfect starting- off point for a keyboard project. for context, this was my first custom keyboard ever. prior to this, i had only ever bought keyboards like corsair, asus, razer, etc. the guides available for building this were easy to follow.
now the not-so-great:
the kit (as of the time of writing) comes with an OLED cover that does not work with the larger knobs available to buy here. i made the mistake of getting one of the larger knobs, and was unable to use the cover. Keebd did supply me with a prototype OLED cover that has space for the larger knob, as shown in the pictures in this review, but i dont know if this will make it to the full kit.
secondly, the PCBs for this kit are a pain in the ass. the kit requires *specifically* the SK6812MINI LEDs. i bought the SK6812MINI-E LEDs expecting a slight variant of a chip to follow the same pinout, but whomever made the SK6812MINI-E variant decided they wanted to spite god, so it didnt work. this is my own fault, but its also a fault many people will make so im pointing it out. for this kit, you need the non-E variant of the LEDs. or do what i did and get the Sofle v3.0 PCB printed by JLCPCB and use the Correct LEDs.
also, the tenting kit only comes with two poles. meaning youre stuck with one angle of adjustment which is fine i guess but not perfect, the spacers that go between the two acrylic sheets are not large enough and lead to a bit of bending and weakening in the acrylic, and also the acrylic is too thick on the top layer, leading to the switches not being held in correctly. also the little plastic feet that stick on the bottom of the nuts dont hold very well and just slid off. its fine i guess but ya know.
and lastly, the bad:
the software this keyboard uses, QMK, is a mess. my first attempts to compile a firmware were met with errors about mis-aligned LED numbering, because the default layout wasnt configured correctly (this did get fixed eventually), the wiki for how to do any of it is literally un-searchable on the internet (its here btw: https://docs.qmk.fm/#/newbs_getting_started) but its also incomplete in only the ways open-source software is, and on that note, the discord community for QMK is weirdly insular and insulting to new people in only the ways a programmer-centric community can be.
or you can just use the default layout supplied by Keebd here on their docs page, which i didnt know existed until just now...