Regular price
Sale price
$90.00 AUD
Unit price
per
Sale
Sold out
×
Stock notification
Get an email when this product is back in stock.
Lumberjack 5x12 Ortholinear Keyboard Kit
We respect your privacy and don't share your email with anybody.
Lumberjack is a split 5x12 ortholinear keyboard using through-hole components only.
Designed to be easy to build with minimal soldering experience.

All through-hole components, no SMD soldering required.

Get that visible component aesthetic in a standard 60% tray-mount case.

Supports both USB Mini and USB-C.

Plateless or with FR4 switch plates.
Current Version: v1.7
This keyboard runs QMK and is configurable with Via, the find the via firmware can be found here.
Note: The ATMEGA328P Microcontroller chip included comes with a bootloader flashed meaning once built you will only be required to flash the firmware with the keymap of choice to your Lumberjack.

Kit Includes
1 x Lumberjack PCB
2 x FR4 Switch Plates (If chosen in either MX or Alps)
1 x Acrylic Component Cover
1 x ATMEGA328P-PU Microcontroller
1 x 28 Pin Narrow IC Socket
60 x Diodes (Through Hole)
2 x 3.6V Zener Diodes
2 x 22pF Multilayer Ceramic Capacitors
2 x 100nF Multilayer Ceramic Capacitors
1 x 4.7uF Electrolytic Capacitor
1 x 100mA Polyfuse
1 x USB-C Port
1 x 3mm Red LED
1 x 3mm Green LED
2 x 6x6 Tactile Switches
1 x 16MHz Crystal
2 x 75Ω Resistors
3 x 1.5kΩ Resistors
2 x 5.1kΩ Resistors
1 x 10kΩ Resistor
4 x 4mm Screws
4 x 6mm Screws
4 x 10mm Brass Standoffs
Required to Complete
60 x MX Switches

60 x MX Keycaps
Optional Items
120 x 0305 Mill-Max Sockets (Hot Swap Switches)

120 x 7305 Mill-Max Sockets (Hot Swap Switches)
Build Instructions
This keyboard was designed by Peej.

Share
View full details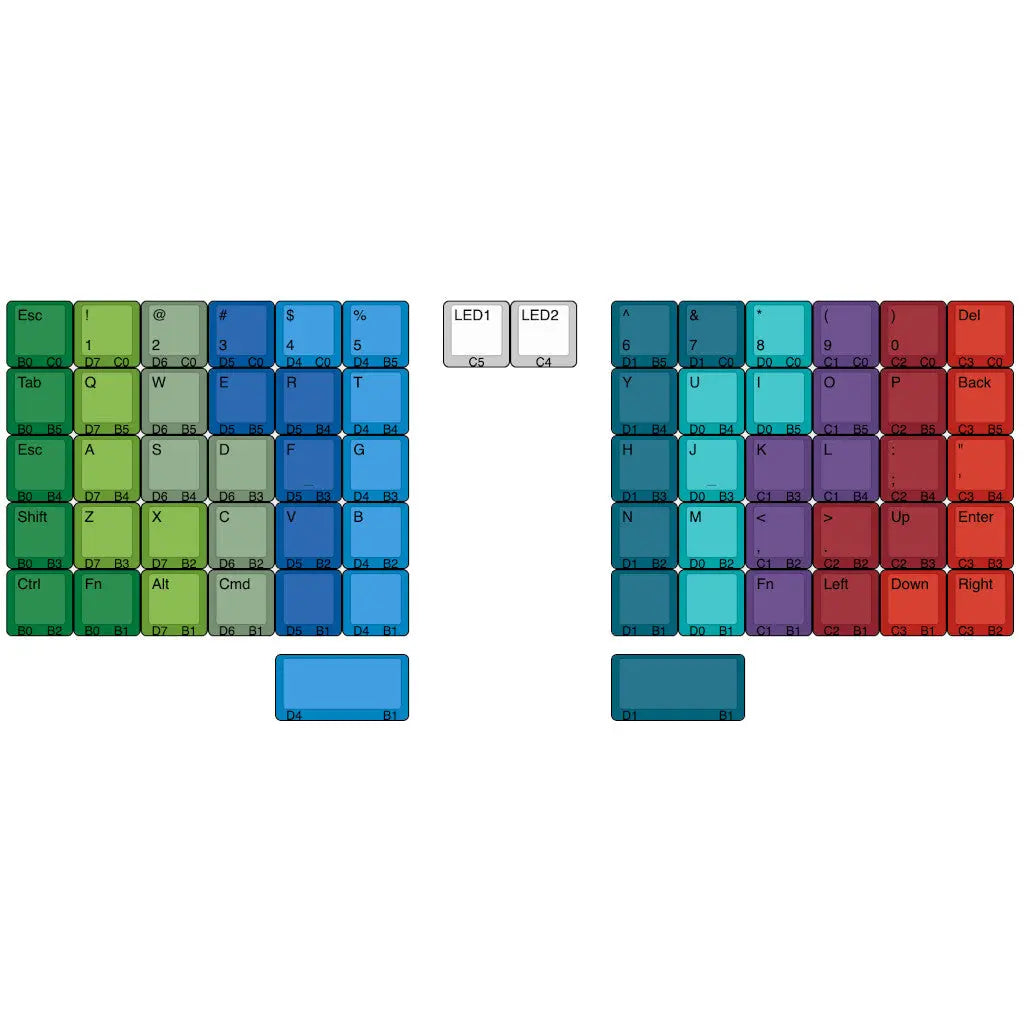 Awesome!
I love the feel and being able to see all the inner workings of my board, so cool.
Split uniboards are my jam. Get this, a Waka and maybe a Reviung and you got some good split unis. The kit I received wasnt complete. Missing standoffs and screws and some resistors. Thankfully I had everything I needed to fill in the missing pieces. Overall an easy board to put together and its nice having two 2u space bars like the Waka.